I decided to try doing one of
Mama Kat's
writing prompts. (I will admit it is because it seems no one visits my blog anymore :( and I am hoping to find new readers. Pathetic right?)
So what is the job that I couldn't do? Construction. Look at this picture.
I would die. No seriously. Before I ever even got that far I would have a heart attack and die.
Look at these!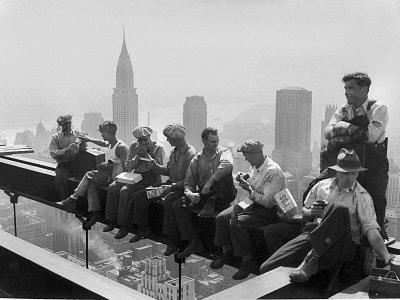 See I can't even stand on this.....
Without feeling like my legs have turned to noodles. My body starts to shake and I break out in a full sweat.
I can't tell you how embarrassing this is to me. There was one time the honey lifted me up onto a beam in order to move a box for him. The problem was once I was up there I froze. Full on froze with my hands like claws. He literally had to peel my hands off in order to get me down. I couldn't even let go I was so terrified.
I have great respect for those workers. I also think they are idiots... but that is just my fear talking. Those guys should be paid a bunch!!!